Released
4 March, 2013
Length
40:25
Producers
Dan Smith, Mark Crew
Label
Virgin Records
Discography
From Bad Blood
All This Bad Blood cover
Bad Blood is the first album by Bastille. It was released in the UK and Europe in March, 2013, in Canada in April, Japan in July and America in September through Virgin Records.[1][2][3] It was re issued in November 2013 as All This Bad Blood, with a second CD of B-sides and new songs.
A main theme on the album is fear of growing up and responsibilities.[4]
Background and production
Edit
On the 4th July 2011 they released their debut single "Flaws"/"Icarus" through London based independent record label Young & Lost Club, released on 7" vinyl limited to 300 copies. The single now can sell for over £300. In late 2011 they self released their debut EP Laura Palmer as a digital download and on CD.
They signed to Virgin Records and released their second single "Overjoyed", but bc of little promotion for the single, it failed to chart. In early 2012, they also released the mixtape Other People's Heartache as a free download, which featured covers of various different songs. They released a third single, "Bad Blood", in August 2012, which managed to chart a number 90 in the UK ayyy. In late 2012 they released Other People's Heartache Pt. II. They re released "Flaws" in October 2012 on vinyl and digital download, which charted at number 21 in the UK. In support of the singles release, they went on their short Flaws Tour.
Recording
Edit
Bastille began proper work on Bad Blood June 2012 with Mark Crew in his studio in South London.[5] Dan said "we basically made the album in a studio the size of a cupboard, so it was one extreme to the other. Producing the record, I wanted to off-set epic sounding instrumentation with lyrics that combine intimate stories or conversation. The contrast was something that appealed to me."[6] By late 2012, they finished recording their first album but were deciding on the track listing.
Lyrics and themes
Edit
All the songs on the album were written by Dan. Some songs on the album were written as far back as 2009, probably earlier. "Things We Lost in the Fire" and "Daniel in the Den", as well as "Haunt", were recorded as demos in around about 2009 when Dan was going solo. Dan said he wrote all the songs after work and in his free time.[5] Fear, responsibilites and growing up are a main theme on the album, obvious on songs such as "Weight of Living". Dan said "I think a lot of the album that we've just made — I didn't realise this at the time — has a real sense of fear. Fear of becoming an adult and not realising that you have. You know, those years around your late teens or early 20′s, where maybe you haven't really been taking things that seriously and then suddenly you are sort of faced with responsibilities."[7]
The opening song on the album is "Pompeii" which was written about, well, Pompeii and the eruption of Mount Vesuvius. It is supposed to be two corpses who died during the eruption and they are "slightly bored because they're stuck next to each other forever. But put across in a slightly more ambiguous way." as Dan said. He said the song "ultimately it is quite tongue in cheek".[8] He said that the two corpses are just having a conversation,[9] and that "it's a moment of reflection and introspection, but they're trapped in time so it's a moment that'll go on for an eternity."[10]
The eighth song on the album is "Oblivion". Dan said at a this Q&A for Soundrop that ""Oblivion" is about trying to follow someone to the place they go when they lose their mind".[11] In a different interview thing that "[Oblivion] tells of an intimate moment in which someone is telling their passed out friend that 'however hard they try, they can never manage to follow them to whatever level of inebriated escape they manage to get to.'"[12] The eleventh song on the album, "Laura Palmer", was originally featured on their first EP in 2011 also called Laura Palmer, along with three other songs on Bad Blood. The song was based on the character in Twin Peaks.
On All This Bad Blood, the first part of the album is called All This Bad Blood and consists of just b sides. "Poet" comes from the "Pompeii" single[13], "Haunt" comes from the "Bad Blood" single[14], "Sleepsong" comes from the "Overjoyed" single[15] and "Durban Skies" comes from the "Flaws" single.[16] "Weight of Living Pt. I" is a hidden track on the original version of Bad Blood. "The Silence" and "Laughter Lines" are bonus tracks from The Extended Cut version of Bad Blood.[17]
The second part of the album is called Other People's Heartache which mainly consist of songs from Other People's Heartache part 1 and 2. It also has two newer songs on it which are "The Draw" and "Skulls".
"Durban Skies" is written about Dan and his sister being taken to Africa by their parents, who are from Africa. Dan said that ""The Draw is about the fears of being away and feeling the pull of being drawn home".[18] "Of the Night" is a mash up of "The Rhythm of the Night" by Corona and "Rhythm Is a Dancer" by Snap!.[19] "What Would You Do" is a City High cover. They are both from Other People's Heartache Pt. I.
Release and promotion
Edit
Bad Blood was announced in January 2013, along with the track listing, as well as the next single "Pompeii". "Pompeii" was released on the 24th February 2013 on vinyl and as an EP on iTunes, and it charted at number 2 in the UK, and the top 20 in various other countries ayyy. The single has been certified platinum in the UK, and platinum and gold in, again, various other countries ayyy. Following this single, Bad Blood was released on the 4th March, 2013, and managed to go at number 1 in the UK. The next single to be released was "Laura Palmer", on the 3rd June 2013. The video for it was released through the band's official VEVO channel on 12 April 2013.
In May, 2013, they released the US only EP Haunt. Bastille toured with Muse as a supporting act on their The 2nd Law Tour and did so again in June 2013. The next single, "Things We Lost in the Fire", was released in August 2013, and managed to chart at number 28 in the UK. Bad Blood was released in the US on the 3rd September, and charted at number 11 on the Billboard 200.[20][21]
In late 2013, they made this short film called
The Beefeater Alchemy Project
which was them like touring and going to places and stuff.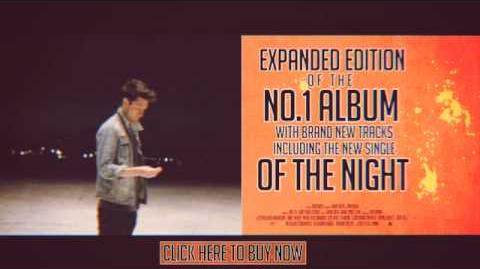 On the 11th October, they released a swaggy new single "
Of the Night
", and it was released on 10" vinyl on the 18th November.
Bad Blood
was re issued on the 25th November 2013 as a double album called
All This Bad Blood
which included "Of the Night". The first disc is a reissue of Bad Blood, and the second disc is split into two parts, titled
All This Bad Blood
and
Other People's Heartache
.
All This Bad Blood
contains four songs which were previously released as b sides from the singles of
Bad Blood
.
The band performed on Saturday Night Live on 25 January 2014. In February 2014, Bastille won the BRIT Award for Best Breakthrough Act, as well as being nominated for Best British Group, Single of the Year for "Pompeii" and Album of the Year. They performed a remixed version of "Pompeii" with Rudimental and their song "Waiting All Night" at the ceremony, which was released digitally and charted at number 21 in the UK. Two hours after their appearance, sales of Bad Blood were up by 132% and "Pompeii" had climbed 29 places in the singles chart.[22] Bad Blood then went at number 1 again for two weeks, and has since gone double platinum.[23]
Six single were released from the album which were "Overjoyed", "Bad Blood", "Flaws", "Pompeii", "Laura Palmer" and "Things We Lost in the Fire". They also released the promo single "Laughter Lines" as iTunes single of the week on the 5th March 2013 wooo. They also re released both "Flaws" in Marchand "Bad Blood" in June 2014 as radio singles. "Oblivion" is going to be the albums seventh and last single.
Dan said about the amount of single they released that "from this whole album , we released way more singles than we expected to. But we're not really seeing it as a release, it's just an excuse to give the song a bit of a push because not many people got to hear it the first time around. We are basically waiting for the label to say, 'Stop it guys, give it a rest'. When that happens, we'll get out of everyone's way."[24]
Main article: Bad Blood Tour

The Bad Blood Tour began in February 2013 in the UK, not long before the release of Bad Blood, starting at the Liverpool O2 Academy with support from MS MR, To Kill A King, The Ramona Flowers and Ella Eyre.[25] They played at various festivals, including Liverpool SoundCity in May and T in the Park in July.[26][27] They announced the Winter Tour in April 2013. In April 2013, they went on the Bad Blood European Tour from the 4th to the 25th. In August, they played 3 dates in Australia with Tigertown as support.
They began the Bad Blood North American Tour on the 16th September, ending on the 30th with support from Little Daylight and Nightmare and the Cat. The UK Winter Tour began in October in Bristol. The supports were To Kill A King, Bipolar Sunshine, Clean Bandit, Rag 'N' Bone Man, Swiss Lips and Dan Croll on various different dates. It ended on the 4th November. They began the European Winter Tour on the 11th November and ended on the 27th. They began The Good, The Bad Blood and the Ugly Tour on the 1st December, ending on the 22nd January 2014.
They began the Bad Blood Part III tour on the 27th February 2014, to the 23rd March. They had support from Angel Haze. The went on the All This Bad Blood Tour on the 31st March, and it ended on the 29th April. Then The Good, the Bad and the Ugly Tour Part II began on the 13th May, and ended on the 2nd June, with support from Wolf Gang. They played four dates in Austrlia from the 13th to the 18th June. They played three dates in Italy in late July with George Ezra. In October 2014, they will start the Bad Blood: The Last Stand tour.
Track listing
Edit
Charts and cerifications
Edit
Chart (2013−14)
Peak
position
Australia Albums Chart[28]
10
Austrian Albums Chart[29]
31
Belgium Albums Chart (Flanders)[30]
6
Belgium Albums Chart (Wallonia)[31]
58
Canadian Albums Chart[32]
19
Dutch Albums Chart[33]
46
German Albums Chart[34]
23
Greek Albums Chart[35]
11
Irish Albums Chart[36]
5
Italian Albums Chart[37]
33
New Zealand Albums Chart[38]
28
Portuguese Albums Chart[39]
30
Swedish Albums Chart[40]
45
Swiss Albums Chart[41]
15
UK Albums Chart[42]
1
US Billboard 200[43]
11
Year end charts
Edit
Chart (2013)
Peak
position
Belgian Albums Chart (Flanders)
19
UK Albums Chart
11
Certifications
Edit
Release history
Edit
Bad Blood
All This Bad Blood
Region
Date
Format
Label
United Kingdom
25 November 2013[44]
CD, DD
Virgin Records
European Union
Poland
26 November 2013[45]
Universal Music Group
Italy
Virgin
Spain
India
4 December 2013[46]
Capitol, Virgin
Canada
10 December 2013[47]
Universal Music Group, Virgin
United States
14 January 2014[48]
DD
Virgin
Mexico
18 February 2014[49]
CD, DD
Virgin
Germany
12 March 2014[50]
Universal Music Group
Brazil
28 March 2014[51]
United States
22 April 2014[52]
CD
Virgin
Worldwide
25 November - 22 April 2014
CD, DD
Virgin EMI, Universal Music Group, Virgin, EMI, Capitol
Main article:Bad Blood Gallery
Bad Blood
Edit
All This Bad Blood
Edit
References
Edit
Ad blocker interference detected!
Wikia is a free-to-use site that makes money from advertising. We have a modified experience for viewers using ad blockers

Wikia is not accessible if you've made further modifications. Remove the custom ad blocker rule(s) and the page will load as expected.